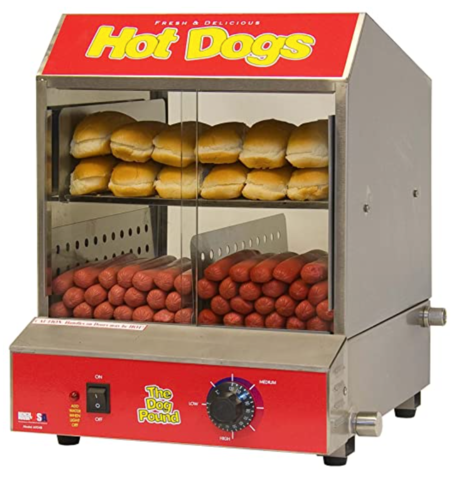 Hot Dog Machine
This Hot Dog steamer keeps BOTH hot dogs and buns steamed and ready to serve!

This hot dog steamer has a submersible heavy duty stainless steel heating element that will shut off when the water in the 8 quart water reservoir drops below a certain level. An adjustable thermostat allows this unit to operate in a wide variety of cooking and holding conditions. Our hot dog steamer has a maximum capacity of 164 hot dogs and 40 buns. You will also need a way to put water in the machine for the steamer. Hot Dogs cook in 20-30 minutes.
WE DO NOT SUPPLY HOT DOGS OR BUNS.
Hot Dog Machine Rental
Operating Instructions
Specifications
The Hot Dog steamer holds between 164 hot dogs and 36 buns.
Installation
Install the machine in a level position. Connect the lead-in cord to a suitable outlet of the correct voltage.
Operation Procedures
Remove the hot dog basket and juice tray and add approximately ten quarts [2.5 gallons] (no more) of water into the heating compartment so that the water level is just above the heating element. NOTE: Using hot water will reduce the heating time.

Place the tray and partition into the unit and put the wire compartments in place.

Place the hot dogs in the small compartment and the buns in the wire rack in the large compartment. Arrange the hot dogs and buns so that there is free circulation of steam.

Turn the switch to the ON position and set the thermostat control to HIGH until steam is generated.

For normal operation, set the thermostat control in the center of the range between LOW and HIGH.

The steaming compartments have been designed to deliver the proper amount of steam in each compartment. No adjustment is necessary.

Keep the lids closed while not serving.

Add more water as necessary to maintain the water level above the heating element. Add hot water if possible.
Cleaning Instruction
Unplug the units power cord from the outlet.

Remove any remaining hot dogs and buns.

Drain the water from the drain pipe.

Wipe down the machine with a dry towel to get ride of moisture
Troubleshooting
CONDENSATION ON THE OUTSIDE OF THE MACHINE.

Cool air striking the warm unit surface may cause moisture accumulation. Protect the unit against cool air.

CASING OF HOT DOGS BURST.

Too much steam is being generated. Adjust the thermostat control to a lower setting.

BUNS ARE TOO SOGGY OR TOO DRY.

Too much or too little steam will produce these conditions. Control the amount of steam by adjusting the thermostat control as necessary.