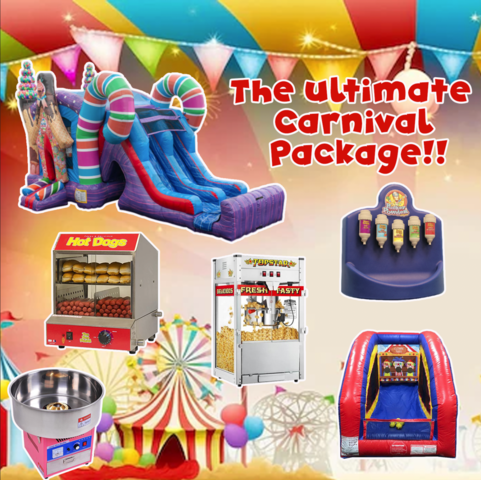 The Ultimate Carnival Package
Introducing the Ultimate Carnival Package, the ultimate party experience that will transport you to a world of fun, excitement, and endless entertainment. This all-inclusive package is designed to bring the vibrant spirit of a carnival right to your doorstep.
Get ready to immerse yourself in a colorful and thrilling atmosphere with our carefully curated selection of carnival-themed activities and attractions. From a thrilling Bounce house to the classic Clown Toss, this package has it all.
No carnival experience is complete without delicious food. Our package includes a mouthwatering selection of carnival favorites, from cotton candy and popcorn to hot Dogs. Satisfy your cravings and treat your taste buds to an unforgettable culinary journey. We also have a nacho bar that can be added to your cart!
To keep the party going, we have live entertainment that will captivate and amaze you! Add The balloon Balloon Artist by going under Party Entertainment!